Designing the Future of Your Landfill Gas Collection System
Our Strategic Approach for Maximum ROI
Landfill gas (LFG) collection systems are essential components of modern waste management facilities. By capturing methane gas, which would otherwise be released into the atmosphere, LFG collection systems help to reduce greenhouse gas emissions and provide a source of renewable energy.
The design and implementation of an LFG collection system requires expertise, experience, and specialized equipment. As a biogas industry leader delivering cutting edge technical solutions for the LFG industry, our team of experts has the knowledge and experience to deliver safe, effective, and efficient LFG gas collection & control (GCCS) solutions.

We offer a range of services to support every aspect of your landfill gas collection system project and help you achieve your goals—with customized solutions tailored to your specific needs.

LFG Collection Systems - that Maximize Results

Every landfill site is unique, and so is every landfill gas collection system. Our team of experts will work with you to understand your site's layout and requirements, and design a solution that maximizes your ROI.

When you engage ESI to design and build your LFG collection system, our team will conduct a thorough assessment of your landfill site before we begin the design process to determine the most effective way to collect and control the unique landfill gas generated by your site.
Our evaluation will include a detailed analysis of your site's layout, topography, and LFG production, allowing us to create a design that is optimized for the unique characteristics of your site.
Our recommendations may include the installation of new equipment, modification of existing systems, or the implementation of new control strategies.

The ESI team will oversee the implementation of your project to ensure that your new LFG collection system is installed and configured correctly.

Landfill Gas Collection System Support

To ensure that your LFG collection system continues to perform optimally, our experienced operations and maintenance (O&M) teams can be engaged to deliver ongoing monitoring and maintenance services.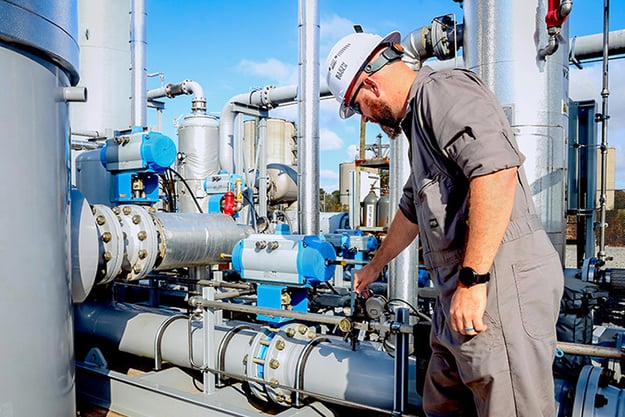 Our LFG O&M services include regular inspections, troubleshooting, and repairs to keep your system functioning at peak efficiency.

Next Steps

Effective LFG collection is essential for reducing greenhouse gas emissions, but it is also a steppingstone to landfill-gas-to-energy (LFGTE) applications that provide cost savings, potential renewable energy credits, and new revenue streams.
From Medium Btu Power, Heating & Cooling to High-Btu RNG for
Vehicle fuel or Pipeline Injection
Source: Landfill Methane Outreach Program/EPA
In today's fast-moving market, stakeholders have a growing variety of end-use options for gas collected from landfill sites.
Our site assessment, design, implementation, and maintenance services will help you determine the best path forward for your LFG assets and achieve and maintain robust, efficient landfill gas collection systems that support your goals.
With the ability to serve as a single-source provider for every phase of your LFG project—from project development, engineering, and construction, through operations & maintenance—or deliver standalone services to suit your needs, ESI offers the ultimate flexibility for projects of any scope.
Learn more about our landfill gas collection & control systems here or contact us at (+1) 541-549-8766 to speak with one of our landfill gas collection systems experts today.
FREE LFG-to-Energy Facility
Expansion Case Study