ESI Celebrates the Opening of Two New Renewable Natural Gas Facilities
Introducing the first two LFG-to-RNG facilities in North Carolina
Benny Benson, President, ESI, joined Sasha Weintraub, Duke Energy senior vice president and president of Duke Energy's natural gas business unit, Elizabeth Paynter, Managing Director, Planning, Investment & Asset Operations, Duke Energy, and David Wentworth, President, and CEO of EVENSOL for recent ribbon-cutting ceremonies celebrating the opening of two newly operational renewable natural gas (RNG) facilities in North Carolina.
Developed in close collaboration between Duke Energy, EVENSOL, and ESI, the Foothills Renewables Project in Caldwell County, NC, and the Upper Piedmont Renewables Project in Person County, NC, will convert landfill gas from the two Republic Services-owned landfills into RNG.
Each project boasts a state-of-the-art RNG facility, designed and constructed by ESI. Work included the design, permitting, construction, and commissioning of each facility, with primary project components supplied by Air Liquide, Guild Associates, Perennial Energy, and Vilter Manufacturing.
ESI will now operate both facilities.
Foothills Renewables Project in Caldwell County, NC
"The real win for all stakeholders involved is that ESI will operate these facilities—leveraging the intimate knowledge gained through the design and construction phase of these facilities together with our two decades of experience operating in the biogas space," said Benny Benson, President of ESI, "No one is better positioned to maximize facility uptime and profitability."
Sisters, OR-based EVENSOL and its partners invested more than $110 million in the combined projects. Duke Energy, based in Charlotte, NC, is an equity investor in the two projects, which were also awarded close to $73 million in loans arranged by Greater Commercial Lending ("GCL") and guaranteed by the U.S. Department of Agriculture.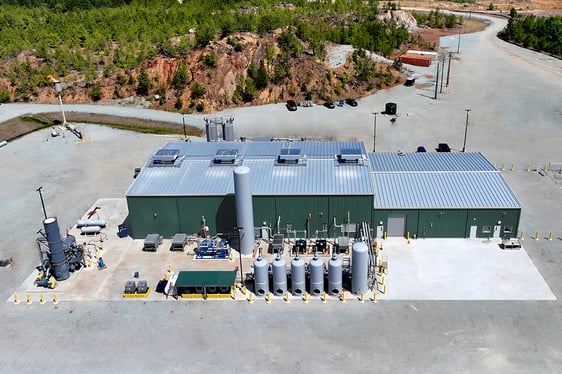 Upper Piedmont RNG Project in Person County, NC
Each project will initially produce up to 500,000 dekatherms of RNG annually, providing clean transportation fuel to commercial fleet vehicles. The combined 1 million Dth is equivalent to the average annual natural gas use of nearly 17,000 residential customers in North Carolina.
By utilizing a natural byproduct of landfill waste and converting it into beneficial renewable fuel, the two projects will deliver meaningful positive environmental impact.
"EVENSOL is thrilled to bring these projects online, providing a beneficial use for large volumes of landfill gas, while creating a valuable renewable energy source for the residents of North Carolina. We are grateful to all our project stakeholders, investors and lenders for their patience and support in bringing these historic facilities on-line, the first landfill gas to RNG facilities in North Carolina," said David Wentworth, President, and CEO of EVENSOL.
"We're excited for the Foothills and Upper Piedmont projects to join our growing portfolio of renewable natural gas investments," said Sasha Weintraub, Duke Energy senior vice president and president of Duke Energy's natural gas business unit. "Duke Energy is committed to supporting sustainable energy solutions, and we're proud to be an industry leader in the RNG space as we continue our journey toward a cleaner energy future."
As a leader in the environmental services industry, Republic Services is committed to decarbonizing operations and providing low-carbon solutions to customers. These landfill RNG projects directly support Republic's long-term sustainability goal to beneficially reuse 50% more biogas by 2030.
"At Republic Services, our vision is to partner with customers to create a more sustainable world now and for future generations," said Republic Services Area President Shane Walker. "Through our partnership, these projects will allow us to convert landfill gas into a low-carbon fuel source that reduces greenhouse gas emissions. Projects like these are not only helping Republic Services meet our sustainability goals, but our customers' as well."
FREE: Download the Case Study!
Read the related Republic Services press release here.
Learn about additional Beneficial Use options for Landfill Gas here.
Learn about ESI's RNG solutions here or contact us at (+1) 541-549-8766 to speak with one of our biogas solutions experts today!


Source: Republic Services [Press release Nov 6, 2023]